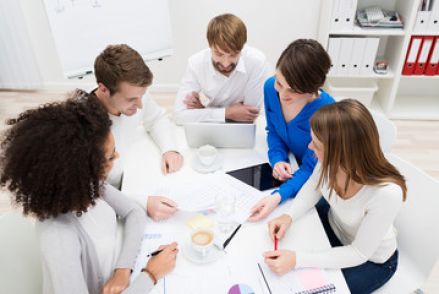 Staffing agencies are full time human resource professionals helping businesses of all sizes find the right talent from around the world at short notice. Whether you need staff for temporary position, contractual position or even on permanent basis, these staffing agencies in New York can provide the right staff on your terms.
Finding the perfect candidate for your business is an expensive and time-consuming process, as a survey reveals that most businesses spend close to 45 days or more and invest about a third of an employee's salary in recruiting. It also says, about 60% of the businesses realized they made a bad hire which cost them even more in training these hires. On an average, businesses spend about 27 weeks to train the candidates so they can become fully productive, now that is a huge waste of time and with salary being paid during the training period, it results in additional spending.
If you are looking to save time and money, staffing agencies are your best option. Working with a recruitment agency will save you the time, money and offer the best talent. They vet the candidate carefully and offer quality candidates who can hit the ground running.  Here are six ways staffing agencies in New York help businesses solve hiring problems that business face.
Staff at Short Notice: Businesses may require experienced staff for a short term, when an employee goes on leave due to an emergency, leaves the organization without notice or other reasons. You may not have the time to find a replacement, as the position needs immediate replacement.  Staffing agencies understand such requirements, so they invest in finding candidates who like to work on short-term projects. In addition, recruiters have connections to widespread professional network to help them find the right talent easily. Posting the job ad, sorting through resumes, conducting interviews, etc. is a time-consuming process making it impossible for businesses to hire quickly, especially for urgent positions; on the other hand, staffing agencies complete all such groundwork and offer you candidates readily whenever you need them.
Temporary Employment:  Your business may have to employ staff for an extended period, not necessarily permanent employment such as when an employee goes on an extended vacation or for other reasons where you may have to find a replacement for few months or so. Recruitment agencies can offer experienced talent who can help keep business continuity and make an impact immediately. Hiring through agencies offer great flexibility as you can scale up or scale down employees based on your business requirements.
Hiring outside of your expertise: One major problem in recruiting arises when you have to hire people outside of your expertise or domain. However not all organizations have the expertise to find the right talent to support resumes or conduct interviews for IT candidates. As full time human resource experts, staffing agencies have professionals from every field on their network, who can help you find any talent easily.  You can work with an agency that specializes in your desired niche or an agency that offer customized solutions for your business to find the right candidate for any department.
Selection Process: Another hiring problem for most business is the grueling selection process. Business will have to reach out to a number of applicants, go through those applications, sort and shortlist eligible candidates and find the right candidate for the position. Well, that is a time consuming and an expensive process. Recruiters have access to a vast talent pool, connections to professional network and have the expertise to search for talented candidates. They are always investing time and resource to add qualified and experienced resources to their huge database so they can match their talents with the right job whenever there is a requirement.
Payroll: When you approach a direct hire staffing agency, you need not worry about the administrative tasks either. From background checks to leave policy, payroll, health benefits, and more recruiters will handle all these administrative tasks for you, reducing the stress on your organization.
Retention: Retention is another factor to outsource your hiring needs to temp to hire staffing agencies in New York. When you hire a candidate for temporary position, you may need to invest time and money in training the candidate to understand your business and the mechanics. If you are satisfied with the performance, you can always retain the employee for long term and the staffing agency can help you retain such resource.