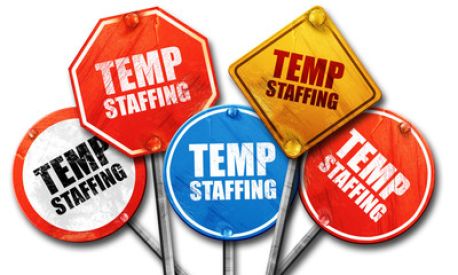 Access to top talent, ability to offer a perfect-match candidate at a short notice, and flexible employment options are some of the irresistible offers that attract many businesses towards temporary to permanent staffing agencies. In the US, these agencies provide about 14 million workforce to help smooth functioning of businesses every year.
Finding top talent is the single most important factor that contributes to the success of a business, and with too many companies chasing a few qualified and experienced candidates the job of recruiters has become a tough one. In- house recruitment teams of businesses look for candidates when a position falls vacant or when business is expanding. Recruitment is not a full-time position for most businesses; as such, they may find it difficult to find the best talent on a short notice.
On the other hand, temp to perm agencies work as full–time recruiters, invest heavily in building a database of qualified and experienced candidates, establish wide network with industry, business consultants so they keep themselves updated with the latest trends in recruitment and can find top talents easily.
If you are planning to hire though a staffing agency to save time and money and relive the pressure of mundane administrative tasks, you need an understanding of the working of these agencies. Here are the things you need to know about these agencies, so you get the best out of them and develop a better business relationship.
1) Recruiters' area of expertise: You need to understand your recruitment company's expertise before you start hiring their services. Whether the company specializes in placing candidates for specific industries or they offer workforce to any industry. Some recruiters offer workforce to certain specific industry, while some others offer personnel to any industry. If your businesses requires digital marketing specialists in your line of business, then you had better work with marketing staffing agencies that specializes in placing the kind of specialists that your company needs.
2) Turnaround time: Most of the times, businesses requires staff on short notices as there may be unscheduled leaves, emergency leaves, etc. and such case you need a replacement immediately so the businesses goes on uninterrupted. You need to work with an agency that has a low turnaround time, so they send a replacement quickly. The turnover time for the internal staff of the agency is also an important factor, as internal staff such as recruitment manager, client-servicing manager understands your business, your organizational culture, etc., and such people leaving the organization frequently may affect the recruitment negatively. Select an organization with a low turnover for its internal staff and a low turnaround for offering talent to your business.
3) Knowledge of the recruitment trends and the market connections: Recruitment companies need to have the knowledge of the recruitment trends prevailing in the market, so they can help you manage your human resources effectively. They should have awareness of the emerging technologies, skill set required, knowledge on the current interviews techniques, background verification process, etc. So they can recruit, train the right candidates for your business. Staffing agencies should act as your human resource consultant offering you the latest information, advice on how to manage your workforce, their compensation, etc. it is therefore imperative that you work with a best temporary-to-permanent agency that keeps pace with the latest happenings in the industry and the recruitment market.
4) Pricing: Pricing is crucial when shopping for any product or service, when looking for staffing solutions partner too, pricing is an important factor in making the final decision to buy or subscribe to the service. Select a staffing agency based on the value they offer and that charges a competitive price for what it offers. Determining value is crucial in ascertaining the price you can pay to the staffing company.
5) Client satisfaction: It is important that the staffing agency consider client satisfaction a crucial factor in establishing long-term business association. Make sure they have high client satisfaction ratings and reviews from its previous clients.
6) Your Expectations: Finally, before deciding on the staffing agency to handle all the recruitment issues of your business you need to be clear about your requirements and your expectations from the association, so you can communicate the same to the agency and build a mutually beneficial long-term, business partnership with the temp-to-perm staffing agency.